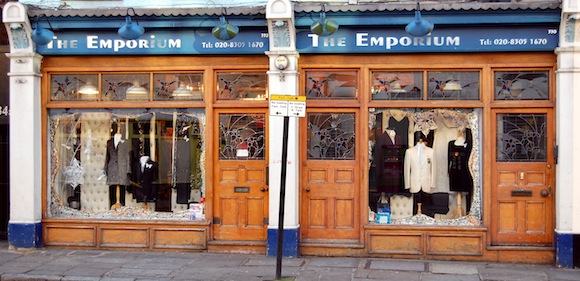 The Emporium, the London clothing outlet which inaugurated London's vintage fashion business, is to close after 27 years.
As London's independent retail fashion scene took the swan-dive from which it never recovered in the mid-80s, so Jon Hale and Jacki Cook's shop in Greenwich, south-east London, provided a haven of 20th Century style, handpicked with consummate taste from their carefully accumulated archive of thousands of garments from the 30s to the 70s.
Perfectly priced and presented, the stock nearly always furnished me with remarkable pieces over three decades: a black leather Italian motorcycle cop's coat, a Philadelphia fireman's jacket in red polished cotton with black fake fur collar, Pucci-style swimming trunks, matching Playboy cufflinks and slip-on shoes, a bottle green corduroy suit from Paul's Boutique, Cazal pimp shades, Harrods by Eton of Sweden pin-collar shirts…
Browsing the racks was an opportunity to rub shoulders with such visitors as Jean Paul Gaultier, Paul Smith and Paul Weller. Over the years I grew to appreciate the couple's deep reserves of knowledge of fashion history; with Chris Brick, Phil Dirtbox and Chris Sullivan, Hale was one of the stylish Welsh mob who flooded into London in the 70s while Cook's understanding of boutique and fashion label culture is second-to-none.
This led them into operating a parallel business providing costumes for commercials, film, TV and videos for such productions as Mission Impossible I and II, Munich and Dagenham Girls.
The Emporium closes at the end of the month: I highly recommend a visit, and not just because there is a sale on. Go for the now rare experience of soaking up the atmosphere of a fashion outlet which has remained true to the spirit of its foundation. The address is 330-332 Creek Road, Greenwich, London SE10 9SW.
The good news is that the archive is being maintained; Hale and Cook will continue to service big and small screen productions and use it as the basis of their fashion consultancy and work with educational institutions. Most importantly  The Emporium will survive in the digital age as an online version of their shop, which will open soon.
There is a holding page where you can subscribe for updates. Go here.
Sayonara, The Emporium. Sad to see you go.
Taken from this post:
The shop which inaugurated London's vintage fashion scene: The Emporium to close after 27 years