My appreciation for the visual culture surrounding popular music was given a leg-up at an early age by a Christmas 1973 gift: Rolling Stone's photography compendium Shooting Stars.
Edited by Annie Leibovitz, Shooting Stars lined up a number of the magazine's photographic contributors who had recorded the American rock music scene in its pomp.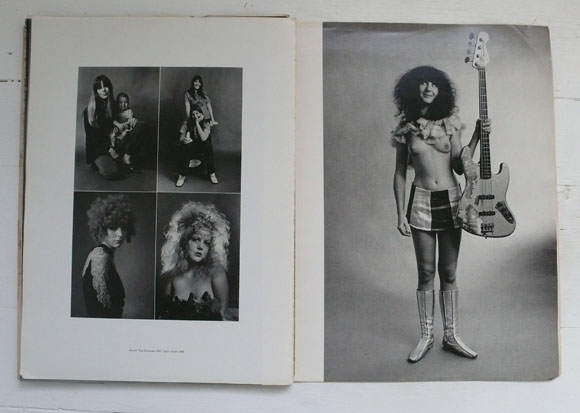 The form, of course, was characterised by all manner of  excessive behaviour, enacted not just by the stars and the business, but also the fans. One manifestation was the always tricky – and in these post-Savile time near-unbearably uncomfortable – phenomenon of The Groupie, sometimes offered up as evidence of female empowerment in that macho environment.
I'm not sure I have ever bought that line, and Wolman – who was the first RS chief photographer and no slouch on feminine allure and visual presentation as the publisher of the independent fashion magazine Rags – himself expressed uncertainty in the note in Shooting Stars which explained the background to The Groupies & Other Girls cover feature in a 1968 edition of RS :
The girls were paying such heavy prices. We got the elite and I wanted to show how beautiful they were, each of them in a special way. I told them each to wear the thing  they thought would make them look the best. They'd show up with several changes of clothing and little gifts of dope. One of them was living with a big dealer and brought over an Excedrin bottle full of the best grass mixed with hash that we'd ever had. They called themselves Groupies, and they were proud of it.
Since the photographers in Shooting Stars were arranged alphabetically by name, the Groupies – many without surnames, driving home the understanding that identity was subservient to function – were the subjects of the final photographs in Wolman's section and thus the last in the book.
Tucked at the back, they added a coda of commentary on the male-dominated images in the preceding pages, spiking with glamour and a combination of strength and vulnerability the overblown antics of the ranks of posturing, narcissistic boy-men.
So it's appropriate that they now finish the job and elbow the wrinkly old geezers with their sordid secrets aside by taking centre stage in the exhibition of Wolman's work which opens tonight at London's Rock Paper Photo. The show is called Groupie – details here.
Read Rags online here.
Taken from this post:
Photography: Baron Wolman + The Groupies