British Design From 1948: Innovation In The Modern Age – the new book accompanying the forthcoming show at the V+A – is a bumper edition: 400 pages weighing in at 5lbs.
It's cheering to see Barney Bubbles' design Ian Dury With Love receiving upfront prominence; the poster is in select company receiving special treatment by the book's designer, Barnbrook's Daniel Streat. The others are: Cecil Beaton's 1953 coronation portrait of The Queen, a shot of Damien Hirst's Notting Hill restaurant Pharmacy and Brian Duffy's Aladdin Sane portrait of David Bowie.
I've yet to fully absorb this starry affair, packed as it is with a stupendous collection of images and text contributions from such figures as Terence Conran, Paul Smith, John Hegarty and Zaha Hadid.
My forthcoming book about Tommy Roberts will redress his absence here beyond a photograph of the Mr Freedom interior in 1970. It will show Roberts as an influential design entrepreneur who harnessed such talents as interiors architect/furniture designer Jon Wealleans, artist/graphic designer Peter Denmark, Paul Smith's tailoring consigliere Derek Morton and the duo Pamla Motown and Jim O'Connor (whose designs reside in the V+A collection).
My book – which includes a contribution from British Design co-editor/curator Chris Breward – also details how Roberts and Paul Jones, his partner in 80s homewares shop Practical Styling, showcased for the first time in a commercial setting the work of Tom Dixon and Mark Brazier-Jones (who both receive prominence in British Design).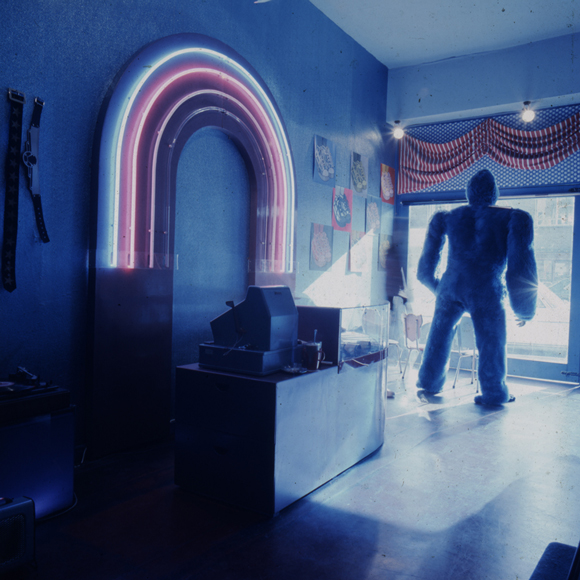 //Mr Freedom, 430 King's Road, 1970. Interior design by Electric Colour Company, gorilla display piece by Sue & Simon Haynes. Photo: David Parkinson.//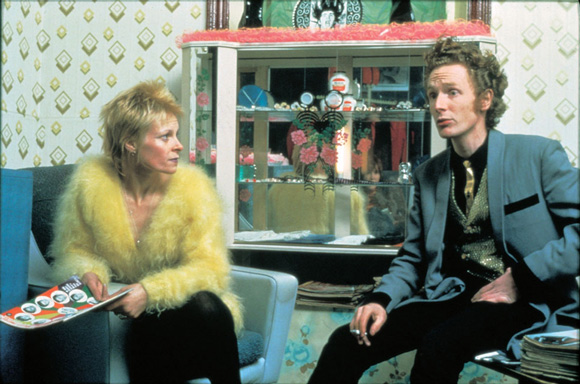 //Malcolm McLaren with Vivienne Westwood at Let It Rock, 430 King's Road, 1971. Interior design by McLaren and Patrick Casey. Photo: David Parkinson.//
The V&A's marginalisation of Malcolm McLaren continues in British Design's unwillingness to credit him as a major design innovator, not just important to the art-school story  – examined here in detail – but also to boutique and fashion design and the wider culture (see also the downplaying of his contributions in the museum's recent Post Modernism show).
Designers from whom he commissioned important work, such as Ben Kelly and Jamie Reid, are granted more space. Meanwhile, the favouritism extended to Vivienne Westwood may be an expression of  lingering resentment over McLaren's justified intervention after lack of attribution in the museum's overbalanced 2003 Westwood retrospective.
Whatever, his considerable achievements are traduced by the single mention (about Let It Rock's feathered ties, weirdly) in Michael Bracewell's piece on subcultural lifestyles 1973-86, just as they are by the inaccurate foregrounding of Westwood in the story of 430 King's Road between 1971 and 1981.
It's likely that McLaren's shape-shifting innovations as a "design editor" – to borrow the term used in Italy to locate other such unpindownable designer/design entrepreneurial figures as Ettorre Sotsass Jr – have not been easily assimilable in British academic circles (the same may be true of Tommy Roberts , though Breward readily recognises Roberts' track record in my new book).
To gloss over the contributions made by these two individuals to the story of British post-war design is, in my opinion, to show lacking.
British Design From 1948: Innovation In The Modern Age edited by Christopher Breward and Ghislaine Wood is available from the V&A bookshop.
The exhibition British Design 1948-2012 opens on March 31.
Taken from this post:
Monster V&A design book: Bubbles, Hirst, The Queen + Bowie get special treatment…but where's Malcolm?