… say it in broken English.
When I was 19, and interning at the late, lamented
… as tears go by.
Record World Magazine, I walked past the office of the person responsible for the album reviews, Sophia Midas.  The music I heard stopped me in my tracks.  The sound was new wave cool, but the voice had a quality I can still best describe as scarred – pain came through that voice.  I asked Sophia what it was, and she said, "That's Marianne Faithfull's new record, Broken English."
"The Marianne Faithfull of 'As Tears Go By'?  Mick Jagger's girlfriend?"
"Uh-huh."
"Jeez, what happened to her?  I mean I love this record, but her voice sounds like it's been through the mill."
"It has.  You can't expect someone who has lived like
her to sound like she did in her 20s."
"In a way, I like this better.  I always found 'As Tears Go by kinda bland."
Sophia smiled, "You would."
This impression coalesced that weekend when she appeared on SNL.  She missed notes,  opened her mouth and nothing came out once or twice.  She wore every line on her face like a badge.  She was amazing.
Whitney then…
This bit of ancient history came to mind while researching a possible project on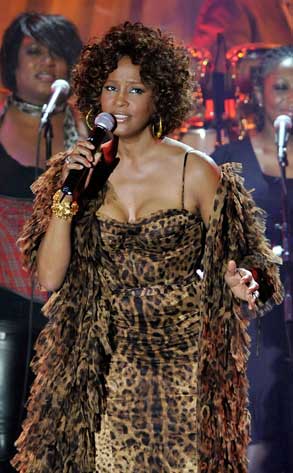 … and more recently
Whitney Houston.  The press throughout Europe, particularly in England, seems to relish the fact that Whitney in her 40s isn't Whitney in her 20s.
I think Liz Smith has it right.  Can anyone be expected to perform in their 40s like they did in their 20s?  Can anyone be expected to look as good?  What do my English compatriots expect?  Sure, Whitney abused the instrument, and would be the first to admit that.But look at Frank Sinatra, Elvis, or David Crosby (ever expect to see those two mentioned in the same sentence?) — even after abuse, weight gain, vocal changes, all the things the for which Whitney is being derided they went on to have long careers.
So maybe this is ageist as well as sexist?
Taken from this post:
Broken Voices